Dies D.Manuel Fraga Iribarne, Honorary Brother of our Fraternity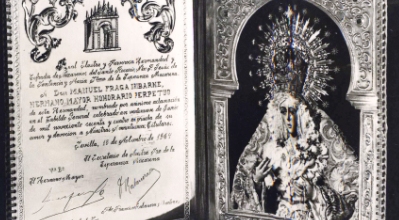 The former Honorary Brother of our Brotherhood, D. Manuel Fraga Iribarne, died on the last day 22.30 January 15, at age 89 at his home in Madrid.
Appointed Brother of Honor June 24, 1963 and Honorary Perpetual Big Brother General in council June 29, 1964. He was part of the Committee of Honor of the Canonical Coronation of Our Lady of Hope. On April 25, 1964 visited the Virgin of Hope and wrote in the Book of Honor of the Brotherhood: "With great gratitude for being admitted as a Brother, and with a firm promise to be one more to contribute to the splendor the worship of our glorious Patron, "and indeed, he turned with the Brotherhood in the preparations for the Coronation. On May 10, 1964 presided at the Teatro Goya in Madrid, the act of glorification of the Virgin of Hope Macarena on the eve of her Canonical Coronation.
At a Mass celebrated at Our Lady of Hope, March 10, 1968, he was presented with a plaque commemorating his appointment as Honorary Brother of the Brotherhood.
On October 13, 1984, he again visited the Basilica de la Macarena, writing in the Book of Honor of the Brotherhood "to the divine feet of the Esperanza Macarena, her devoted son."