Follow the restoration work embroidery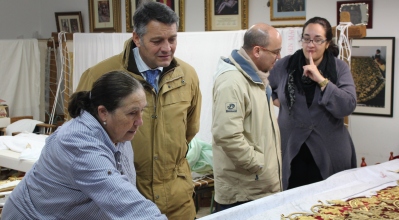 On the afternoon of yesterday, January 18, the commission responsible for monitoring the restoration work carried out in various pieces of embroidery of the Brotherhood turned visit to the workshops where the important work being done for conservation and recovery artistic heritage of the corporation.
Successors In the workshop of Helen Caro, the committee had the opportunity to seethe excellent work that is being developed at the edges of our corporate banner, the work of Esperanza Elena Caro remembered about Ignacio Gómez Millán design.
Then, members of the commission moved to Rosario embroidery workshopBernardino, where they met the remarkable progress made in restoring the canopyroof of the passage of Our Lady of Hope, Hope also works Elena executed in 1965.