Collaborating with the Brotherhood of the Rocío of the Macarena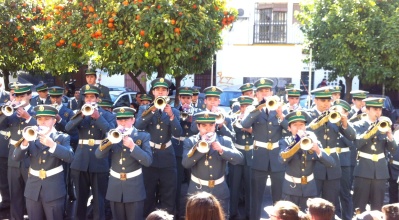 On the Sunday morning of February 5 in the Plaza de Santa Isabel II took place onbands contest organized by the beloved Brotherhood of Our Lady of Rocío de la Macarena, it intervened in a selfless and caring our bands of the Century Macarenain its two sections, delighting the crowd with the classic sounds of bugles and drums.
As a token of appreciation for the cooperation of our brotherhood with the great social work organizer makes brotherhood with the needy in our neighborhood of themacarena, his president NHD. Antonio Neyra, handed the director of bands Jose Hidalgo, a box with the medal of the brotherhood.