After the deadline to get ballots online site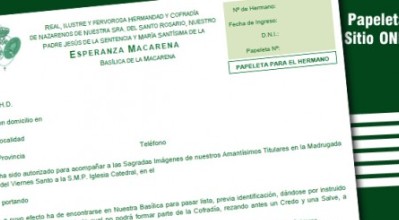 It informs the brothers that the deadline for ballots online site through this website, has finished in the day March 27 as it is proceeding tomake the final list of the brotherhood. Those brothers / sisters that take your ballot from today will be done in person at the secretariat of the brotherhood, losing this year the site for its antiquity assigned to it.
Also reporting to the brothers who have obtained their ballot site, both online and in person before the deadline mentioned above, which from next Saturday, March 31 may view their location in the brotherhood of access reserved for siblings in the section entitled "site ballots." This must be a registered user of our Web site.