Began to cast ballots in person Site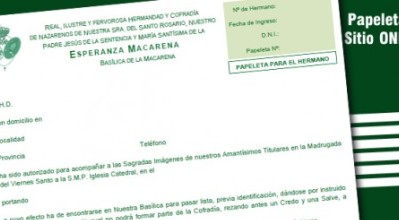 In the afternoon, March 6, has started the distribution of the ballotsface of siege, which will continue from 18:00 to 21:00, until Saturday March 10.
During this period, the ballot will also be available through theweb page without scrolling or waiting in the area reserved for siblings, novel possibility of which have been used and numerousbrothers since its inception on 12 January.
Alms decreases output for the second year, being for the presentof 28 €.
Of l 1 to March 27 Ballot may be obtained only site of an additional candle in charity output 40 €, without losing the site that corresponds to the guild. The brother who for any reason theobtained outside this period will lose the place appropriateseniority will occupy in the guild.