Cardinal Amato chaired the function in honor of the Virgen de la Esperanza.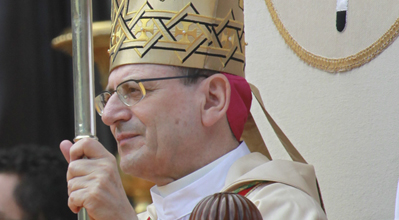 The next Sunday, March 18 as the culmination of SolemnSeptenary dedicated to the Virgin of Esperanza Macarena, will be the solemn function, which will be headed by a cardinal Angelo Amato,Prefect of the Congregation for the Causes of Saints.
CARDINAL ANGELO AMATO
Born in Molfetta, Bari, in 1938, was ordained a Salesian priest onDecember 22, 1967. Held in Rome studying philosophy and theology, studying at the Pontifical Salesian University and later at the Gregorian University, specializing in Christology, his doctoratein 1974. Between 1978 and 1979 won a scholarship to theEcumenical Patriarchate in the Orthodox monastery of MoniVlatadon.
Mariano participated in the Congress "Mary and Hope", promoted by our Brotherhood to mark the fourth centenary Foundation and held in Seville from 21 to 23 September 1995, with the paper "Christian hope and expectations in light of intramundane Mary. "
He was appointed consultant to the Congregation for the Doctrineof the Faith and the Pontifical Council for Promoting Christian Unity. On December 19, 2002, Pope John Paul II appointed himTitular Archbishop of Sila, Secretary of the Congregation for the Doctrine of the Faith, this time coinciding with Cardinal Joseph Ratzinger.
Benedict XVI appoints the July 9, 2008 Prefect of theCongregation for the Causes of Saints, elevate the dignity of cardinal on November 20, 2010, assigning the Diakonia of SantaMaria in Aquiro, a position he still holds today.
The September 18, 2010 officiated by delegation of His Holiness Pope Benedict XVI, the ceremony of beatification of Mother Maryof the Immaculate Conception of the Cross in the stadium of La Cartuja, with the presence in the act of Holy Mary of Esperanza Macarena.