Cardinal Angelo Amato chairs the solemn function to Our Lady of Hope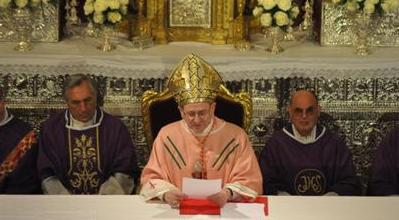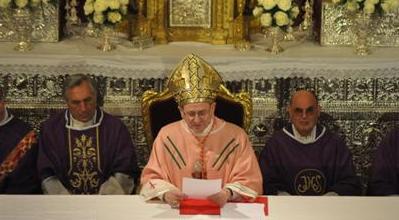 At noon on Sunday March 18 the solemn function held in honor of Our Lady of HopeMacarena as the culmination of Painful Septenary dedicated to our revered Head.
The Brotherhood of the Macarena had the immense honor of the solemn function waspresided by His Eminence. and Rt. Mr. D. Angelo Amato, Prefect of the Congregation for the Causes of Saints.
The Basilica was deluged, from early morning, numerous brothers and devotees at the doors of the Basilica had to be open to the faithful gathered in the atrium could partake of the Holy Eucharist. Intervened Polyphonic Choir of the Brotherhood.
Cardinal Amato had the courtesy to move explicitly from the Vatican to bow down to the soles of the Blessed Virgin and celebrate the Holy Eucharist in his honor, responding tothe invitation by the Brotherhood. At the end of it, came to the dressing room of Our Lady of Hope pray together to Our Sacred Head. Later, accompanied by Big Brother, the Governing Board and Big Brothers and representatives of the General Council of Fraternities and others invited to the function, went to the reception room and signed the book of honor of the Brotherhood.
Culminated with the Civil Lenten internal cults of the Brotherhood, which have been awonderful opportunity for spiritual preparation to the next station Penance.
Narbonne Photos NHD Francisco Soto and Antonio Tirado NHD Muñoz