Celebrated the Solemn Function to Our Father Jesus de la Sentencia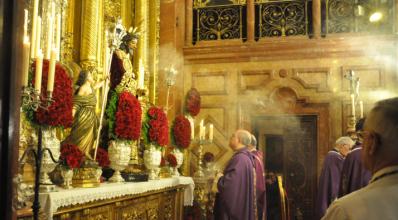 At noon on Sunday March 4 the solemn function held at Our Father Jesus of the Judgment, as the culmination of Quinary dedicated in his honor.
He held the Holy Chair the Hon. and Rt. Mr. D. Juan Francisco Martínez Rojas, Dean of the Cathedral of Jaen and Canon of the Cathedral of Baeza, these cults Lentenpreacher, concelebrated the Most Illustrious Mr. D. Fred Ulpiano Sardon, Canon of the Cathedral of Seville and the coadjutor of the parish of St. Giles Abab.
The Basilica was dwarfed by the large participation of brothers and devotees in the main internal worship in honor of our revered Head.
After the function, in the reception hall, was presented to Rt. Mr. D. Juan FranciscoMartínez Rojas a table with the sacred image of Our Father Jesus of the judgment.
NHD Francisco Soto Narbonne Photos