Francisco Vazquez Perea touted to arm yourselves in the Basilica de la Macarena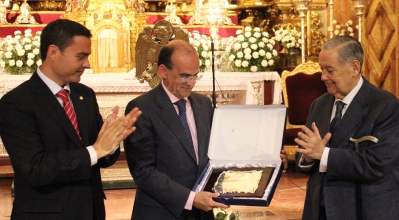 Shortly after nine o'clock at night the Basilica of the Macarena was preparing to host a new edition of the Proclamation of the Arm, an act that has been implemented in SevilleLent as indispensable and whose relevance is given by the cast of preachers who havemacareno passed the lectern.
The event marked the start with a few words of the Captain of the Arm, Fernando VazNHD Calderon, who served as the introit before the writer and journalist significance DJuan Miguel Vega Leal appropriate to the speaker's presentation. With his usualmastery the crier got lucky with this issue, who stressed his prolific life brother and hismagnificent literary qualities for these lectures.
D. Francisco Vazquez Perea began his speech by mentioning the breaking of a promise and his speech was developing as a thread using the rite of the dress of aArmao. He referred, at various times in his speech, to Gospel passages related to the feeling macareno and concluded, this excellent piece of oratory, with a hymn to Our Lady of Hope.
A great cry, full of emotions and Hope, where D. Francisco Vazquez Pereademonstrated his knowledge and his commitment to the Church and met allexpectations that were placed on him.
After his exaltation, Big Brother of the Brotherhood, D. Manuel Garcia Garcia andCaptain of the Arm they handed over a memento to the crier who again received the prolonged applause for his excellent oratory.
In the event intervened Band of Bugles and Drums of the Century Macarena playedmarches and Christ Evocation of the judgment.