Hon. and Rt. Cardinal of the Holy See, Mr. D. Velasio De Paolis, the Macarena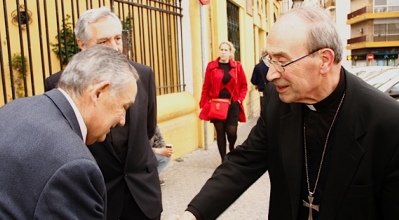 On the afternoon of Good Friday, the Brotherhood of the Macarena, had the great honorto visit the Basilica to one of the Princes of our Holy Church, hosted by Hermano Mayor DonManuel Garcia Garcia, by the Rector of the Basilica, Don Antonio Borrego Cobos and the Counsellor fourth D. Borjabad Jesus and serving as a translator and as a companionin his journey through the rev. Mr. Don Alejandro Arellano.
After praying at the foot of the Holy Virgin of Hope, the Cardinal, was very interested inevery detail was explained to them, expressing joy at the visit and surprised by thebeauty that there was contemplating and finally signed in the guestbook thanking his treatment.
Photos NHD Antonio Muñoz Tirado