NHD Antonio Angel Franco dies, renewing the Arm of the Macarena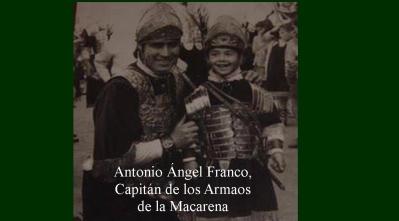 With deep regret was received into the Brotherhood of the death of NHD Angel Antonio Franco, Waiter of the Lord of Judgement, destacadísimo brother of the corporation, the legendary Captain of the Arm and symbol and example for generations of Macarenos.
Antonio Angel, with roots in the Fair Market was, without doubt, the great reformer of the Centuria Romana, which under his leadership met the transformation that led her to be a body known for its discipline to become one of the groups, which form the Brotherhood of the Macarena, most admired and respected Holy Week in Seville.
Known for his integrity and character, Antonio Angel was named Captain of the Arm of the Board chaired by Don Francisco Bohorquez not belong so far to the Centuria Romana. He served from 1953 to 1966, during which he managed to change radically the behavior of the station arm yourselves Penance.
To resign, the Board chaired by Carlos Delgado of Cos appointed him Honorary Captain of the April 29, 1966, being the only brother honored with the appointment.
In 1969, following his superb work as head of the Century, will hold the post of Deputy Chief Government to chair the Board Don Eduardo Miura Fernandez. Later, in 1976, occupies the post of Prosecutor Joseph J. 2nd with Gonzalez Queen of Big Brother.
In 1994, the Governing Board chaired by Don Joaquin Sainz de la Maza and Conesa waiter named him Our Father Jesus of the Judgment, a position he held until his death.
At ten o'clock will be held dirge for the repose of his soul in the morgue of St. Jerome.
May Our Lord Jesus of the judgment, which often led prayers, welcome him into His glory through the mediation of the Blessed. Our Lady of Hope.