The Brotherhood of the Macarena distinguished by the Civil Guard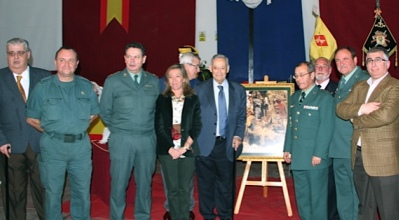 The offices of the headquarters of the Guardia Civil Montequinto welcomed, at noon onTuesday 20 March, the brother act in recognizing the Brotherhood of the Macarena with the distinction that this detachment of the Meritorious Corps provides each year to a Brotherhood or institution.
The event was attended by government sub-delegate in Seville, the general of the civil with the military region, Colonel Chief of the Command Montequinto and some people like Rafael Gordillo or the singer from Huelva Archangel. The delegation of the Governing Board was headed by Big Brother, D. Manuel Garcia Garcia, who was accompanied by Brother Deputy, D. Álvaro García García-Carranza, by the SecondCounsellor, D. James D. Ortega Alvarez and Secretary of Our Lady of Hope, D. AntonioGarcia Rodriguez.
The lieutenant of the Guardia Civil, D. Antonio Cordero, said the celebration of Holy Week, a poetic speech charged with emotion and feelings that shocked the audience.
Photos of NHD Antonio Muñoz Tirado