The Magna Procession in Seville Cadiz will be presented at the Basilica de la Macarena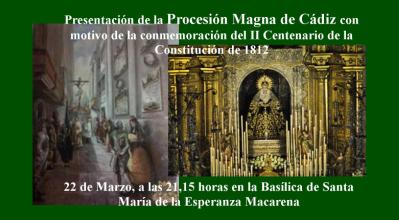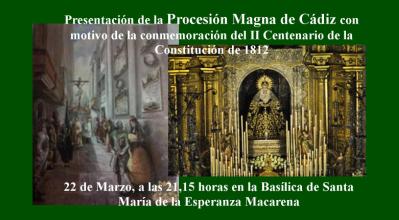 To celebrate the Bicentennial of the Constitution of 1812, the city of Cadiz preparesvarious commemorative events of the same.
In this context the Council of Fraternities and Brotherhoods of Cadiz, as a bodyrepresentative of the corporations of this city, agreed to contribute to this importantcommemoration by organizing various events, among which is the Magna Procession isheld on Holy Saturday April 7 and through the main streets of the city of Cadiz.
Aware of its importance and interest to the commission wants to give the widest possible dissemination among the brethren of the neighboring provinces, especially in the capital of Seville, for those who wish to come to Cadiz and watch the processionreferred to Magna.
To do this, and so that it gets the maximum impact and promote the said support, organized a ceremony at the Basilica of Santa Maria de la Esperanza Macarena, given the close relationship between the Brotherhood and the city of Cadiz. The same will take place on 22 March at 21.15 hours.