The members who are to perform penance station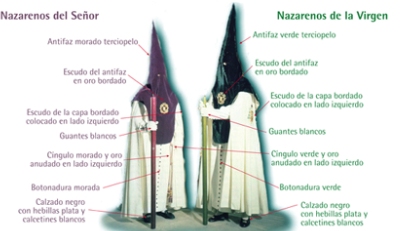 We want to remind all brothers / sisters who will make the station penance to the Holy Metropolitan and Patriarchal Cathedral the next morning of Good Friday, as required by the Ordinance 1 st of our internal rules on cults external and as you can see in the picture attached, should wear cassock and habit made of merino or similar layer of cream, purple and cingulate breasted four-wire twisted, two purple silk and two gold and velvet mask also purple accompanying the Our Father Jesus of the judgment, for its part, the buttons and the mask are green, and green and gold sash in the same proportion as above, for those that may be accompanying the Virgin of Hope Macarena. To ensure that the layer is adequately available, should be used fixer twisted the same features and colors referred to the cingulum.The mask, the chest and focused, you caught a shield composed of Mitra on Stave and Anchor crossed, embroidered in gold thread highlight. In the layer and the height of the left shoulder, carried a shield that will consist of a bracket to the column in flames on the Patriarchal Cross and all topped by Capelo, also in gold thread and colored silks. Over the tunic and under the mask should be carried Medal of the Brotherhood.
The shoes will necessarily be colored black, with silver buckles on the instep silver metal, and socks and white gloves. Those who wish may make bare Penitence Station or only white socks, but never shoes and no socks.
It is expressly forbidden to carry any outward sign that enables the identification of Brother Nazareno, except the ring representative of the marriage covenant.
Similarly, and for knowledge of all components of courtship, attached in the photo gallery, map of the offices of the Basilica and the Parish of St. Giles, with the exact training each of the sections of Nazarenes and as the plane of the Cathedral where you can see the layout of the course through it.
José María del Castillo Jimenez
Deputy Chief Government