Brothers Thanks for your effort and devotion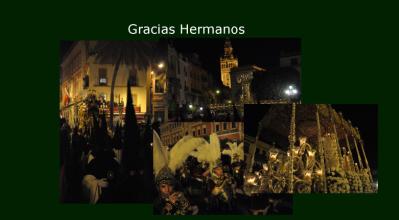 Just a week ago and we keep in memory a transit embezzled time, a space that deceives us as it seems happened long ago. In the middle of Easter, when the Catholic world at the party welcomes the redemption of mankind, the Brotherhood of the Macarena, led by Big Brother and the Governing Board is required to express all our sincere Brothers and fraternal congratulations for the excellent season of penance we have made in establishing compliance with our Rules, to the Holy Metropolitan Cathedral.
The body of Nazarenes of the Brotherhood of the Macarena has shown, once again, the commitment to acquire the responsibilities they wear the habit and become a path of light for our Sacred Headlines. His dedication and sacrifice deserve plausible endorsement and recognition of our corporation, especially this year where the weather conditions threatened to rain in the early hours of Friday morning, so that the Governing Board decided to make the season of penance, but with the need to accelerate the entry of the Brotherhood on schedule. The effort to achieve this end was achieved thanks to the work, perfectly coordinated, the body of deputies, whose instructions were followed, with fidelity that characterizes the Macarenos-a beautiful impression conveyed by those who preceded us in the best devotions, by all Nazarenes. Sacred Love Not in our doubts arise when making requests for them, not haggle when it comes to efforts to avoid the discomfort caused by the inappropriateness of the rain.
Thanks for your fitness Brothers to the pleas. Thank you, because thanks to your understanding, your great devotion, we realize one of the most beautiful seasons of penance in recent years. Thanks to those who behaved our images, the bearers who sacrificed and put all their effort to meet these goals, while strolling around Seville, the grandeur, dignity and grace, the Lord of Judgment, which is delicacy and feeling ofpeople of the Macarena, and His Blessed Mother, Our Lady of Hope, whose universality is enlarged each year devotional.
You Brothers, those accompanied them to the Lord and the Virgin, in huge sections and still not have the good fortune to enjoy His presence nearby and material-because we are confident that the bear engraved on his heart through the streets of the city , are those who do great in this Guild, as they did before who are in the final stages, because ennoblecéis with penance, devotion and sacrifice the memory of the Brotherhood of the Macarena and transmitís, expectation that'll go out to find and during your journey discovering the best of the messages that God would reward us, that of Hope.
Thank you Brothers for your love again demonstrated the Christ of the Judgment and Our Lady of Hope Macarena