Statement from the Treasury of the Brotherhood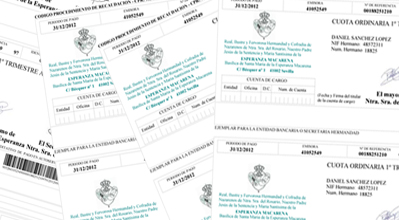 It informs the brothers that have NOT yet domiciled payment of fees, should not have done so, may pay all or part of quarterly receipts pending settlement, using one of several possibilities that the Brotherhood has enabled it :
Payment by mail, charged to a credit or debit card, they can perform on the section for consultation and receipts pending settlement is within the restricted access to the brothers of our Web site.
Making a bank transfer to the account maintained in the Brotherhood with No 2106.0197.22.1132000224 Cajasol, indicating the same concept of the two brother's full name and the year and quarter to which the corresponding fee.
Paying bills or payment cards that were sent last January to these brothers who have not yet domiciled payment of dues.
These receipts can pay part or all of the following ways:
Cash, "window" in any office on Tuesdays or Thursdays Cajasol from 08:30 to 10:00.
If the payer of the bills a customer of Cajasol and has opened a checking or savings account in that state, you can also choose to:
A. – Load them into your account or notebook.
2. – Pay them through the ATM network of Cajasol
3. – For electronic banking entity (www. Cajasol.es)
Directly from the secretariat of the brotherhood in cash or by credit card or debit card.
Those brothers are satisfied that these letters have received payment, or which have lost, they can collect or request the secretary a duplicate of the same, which shall be delivered or emailed as desired.
Nevertheless, for the convenience of the brothers and savings in management costs of collection, please directly depositing the payment of fees at a bank or savings bank.
This procedure may be performed:
By modifying the method of payment of fees in the first access of access reserved for siblings in this Web site, called "Personal data".
Communicating, hermandaddelamacarena@esperanza-macarena.es email, fax 954 903 177, by mailing or in person at the Secretariat of the Brotherhood.
Or Filling the squares on the space provided at the bottom of receipts above, when to pay them over the counter at any branch of Cajasol.