D. Santiago Padilla Diaz de la Serna spoke on "Munoz and Pabon: between Rocio andthe Macarena"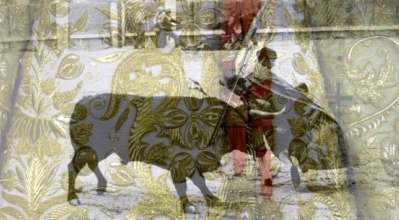 On the night of Wednesday, May 16, the anniversary of the death of our late Brother,Officer Board and benefactor Jose Gomez Ortega, "Joselito el Gallo" was held in theFellowship Hall of our House conference "Muñoz Pabon: between the dew and theMacarena, "which was given by D. Santiago Padilla Diaz de la Serna, manager of the Hotel Association and the Province of Seville, Secretary of the Pontifical, Royal and Illustrious Brotherhood of Our Lady Mother of Rocio in Almonte and author of "Muñoz yPabon, famous singer of the White Paloma ", the first full biography of the famous canonhinojero, NHD was presented by Fernando García Rivero, Secretary of Our Lady of the Rosary, which glossed figure of intervening and introduced with a brief biographical sketch, the figure of the honored canon. He also mentioned the commemoration of the death of José Gómez Ortega, whom the Brotherhood recalled the tragic day of catching, with a Mass celebrated in the Basilica.
Muñoz y Pabon, canon of the SIC in Seville, promoter of the Canonical Coronation of the Blessed. Virgen del Rocio, prolific writer and poet, was also a devotee of the Blessedmeaning. Our Lady of Hope and fervent "gallista", linking to the History of the Brotherhood of the Macarena after his defense through the pages of El Correo de Andalucía, the funeral held in the Cathedral in honor of the late right and your donationOur Lady of Hope of the pen with which he gave the people of Seville for that reason.
Photos Brotherhood.