Sacramental procession in the Basilica of Disabled Persons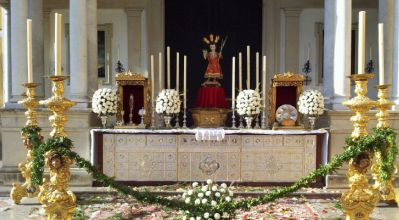 On Sunday 20 May, the Sacramental Brotherhood of St. Giles held the annual Eucharistic procession of Disabled Persons. The same discoursed on some streets of the parish, visiting neighbors who, for physical, can not receive Communion in their own parish.
The Brotherhood of the Macarena was the procession presided His Divine Majestyunder a canopy of respect, and whose poles were carried by the Elder Brothers of the guilds who live in the parish of St. Giles, prepared an altar to receive God EucharisticSacrament, at the very gates of the Basilica of the Macarena.
Photos. Brotherhood of the Macarena