With the May Crosses in Seville … and Triana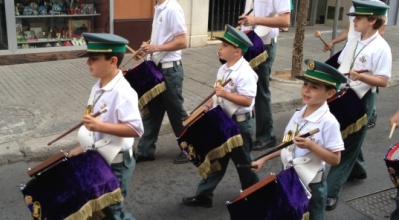 Turns the Century Youth Band Macarena leave impregnated the air of the city with the martial and good work they carry in their mark macarena. Despite its components Youthstreets of Seville are filled with musical notes that these young people interpret as true masters.
In recent days have accompanied different crosses of May, organized by brotherhoodsof Seville, involving and increased their participation and promoting the best of the popular traditions of the city, a true exercise of sevillanía and macarenismo.
Furthermore, on May 19, accompanying the Cruz de Mayo, who organized the Brotherhood of Our Lady of the Rosary, Patroness of Overseers and Costaleros ofTriana, premiered poles that formalize their summer uniform, a new clothing that facilitates and respond, in better conditions, to the rigors of heat, without losing the identity of the band of bugles and drums.