The Youth Band Bugles and Drums in La Milagrosa On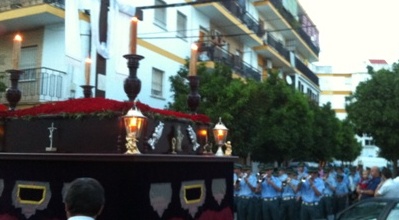 Thursday 31 May, the Youth Band Bugles and Drums of the Century Macarena again delight with its classic tunes, this time in the musical accompaniment of the maypole of AMPA MEDAL, the Lady of the Miraculous Center. The move was carried by bearers of the college students, forming the procession carrying the smallest candles and sticks. The departure took place at 19.30 hours and the journey was made through the streets of dela northern district town. During the same visits were made to the college of La Salle and the General House of the Daughters of Charity. At 23, 00 hours ended this singular procession by children, with the central organization of AMPA, which make training and education in the college of La Milagrosa.
Text and photos. – Juan Jesus.