Auxiliary Bishop of Montevideo in the Basilica of the Macarena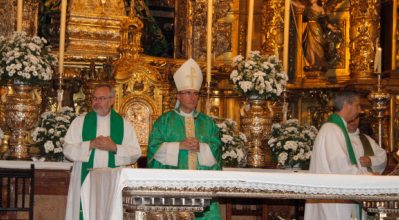 Following the exercise of that Saturday was made by the Rev.. Mr. D. Cobo Antonio Borrego, President of the Temple, presided over the Mass Bishop Daniel Fernando Sturla Berhouet, SDB, Auxiliary Bishop of Montevideo, home owner Felbes being concelebrated by Rvdos. PP. Francisco Ruiz Millan SDB, Provincial Provincial Salesian Mary Help of Seville, Juan Jose Gutierrez Galeote SDB, Treasurer Provincial Salesian Province Mary Help of Seville, Miguel Angel Ruiz SDB, a missionary in Pakistan and director of the Vocational Training Centre Don Bosco in Lahore from 2005, Hugo Espinosa Antunez SDB, Pronvicial Youth Ministry Delegate of Uruguay and Leonardo Sanchez Acevedo SDB, Director Colegio Mayor San Juan Bosco University of Seville.
Previously, he visited the Basilica and the Treasury of the Brotherhood, Monsignor Sturla signing in the Book of Honor, becoming the fifth bishop Uruguayan who does, after Cardinal Antonio Barbieri, Archbishop of Montevideo in 1949, Msgr. Alfredo Viola, Bishop of Salto, in 1952, Msgr. Humberto Tonna, Bishop of Florida, in 1963, and Msgr. Gil Victor, bishop of Mines in 1991.
Bishop left the Brotherhood Sturla impressed by what he had lived and stating his intention to visit when he returned to Montevideo the parish of Our Lady of the Sacred Heart in the Montevideo neighborhood of Punta Carreta, which since 1931 is worshiped an image of Hope Macarena.
Photos NHD Fernando Garcia Arcos