Youth Camp 2012 Course de la Macarena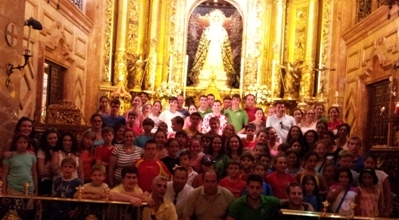 The culmination of the training course, which has been given in the Brotherhood among the youth throughout the year, took place during the past 6, 7 and 8 July summer camp organized by the Brotherhood, which have participated over seventy young. This cheerful and brotherly coexistence occurred at the camp "Sierra Brava", located in the natural landscape of lakes Serrano, the Seville town of Guildford
During the three days the youngest members of the Brotherhood, tutored by Officers of the Governing Board, D. Eladio de Leo Carrillo, First Counsellor, D. Miguel Angel Fernandez Almagro, Prioste of Our Lady of the Rosary, and D. Joaé María del Castillo Jimenez, Deputy Chief Government and monitors the training imparted to them during the year.
After holding various activities that had been prepared were handed diplomas to the children to show their participation in this event that brings together every year to the children of our Brotherhood.
Once back in the Basilica of Santa Maria de la Esperanza Macarena, offered prayers for our Holy Headlines in gratitude for the days you've been through.