Poster Presentation tenth edition of the Festival de la Macarena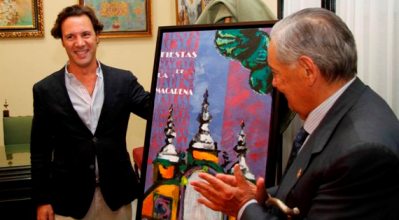 In the hall of the House of Brotherhood of the Macarena, was the presentation of the sign for the tenth edition of the Festival de la Macarena. The work, which represents the arc as the main identity of the neighborhood, wrapped in a color range of colors reminiscent of the hoods velvets as the main signal representative of the Brotherhood, is the work of José Miguel Luque Moreno NHD. The event was attended by the delegates of the Macarena District and Old Town, and the Head of the major festivals of the City of Seville. The presentation was carried out by NHD Fernando García Rivero , Secretary of Nuestra Señora del Santo Rosario, in addition to gloss the Sevillian artist figure, reported the start of the Festival, which will take place on Thursday, September 27, at 22, 00 hours, and you always intervene Siempre Así, Rafa Serna, Albero and Caesar Cadaval. The performances will be announced the following day, shortly on this website and in various media.
During the ceremony, the Brotherhood of the Macarena and paid tribute to singer saetero Peregil Pepe, who always accepted as was required by the Brotherhood. Big Brother, on behalf of the Governing Board, expressed the most sincere and heartfelt thanks for the generous collaboration always paid, being one of the first artists who took part in the celebrations of the Rosary. His son, Alvaro, on behalf of the family thanked this simple but moving tribute to his father and spoke a few simple words and linking professed devotion to our sacred holders, especially to Nuestra Señora de la Esperanza. Presented the first logo of the association that keeps the memory of such an outstanding singer and saetero.
Fernando Garcia Photos NHD Arcos