Start the training of young Macarenos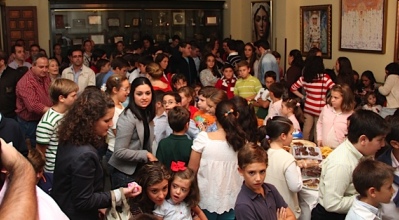 Chaired by the older brother, Manuel Garcia Garcia, and the Presence of First Counsellor, Eladio de Leon Carrillo, Attorney First, Fernando Fernandez and Deputy Chief Cabezuelo Government, José María del Castillo Jimenez, took place in the auditorium of the sorority house, the opening ceremony of the new training course for youth who are members of the Taught by youth of the Macarena. Began with welcoming remarks from Mr. Garcia Garcia Recalled The Importance for our Corporation's Presence and participation of so many children and young people in the daily life of the Brotherhood, in Addition to acquire the skills They and Which is Intended to permeate social and religious of values needed to complete the instruction as men and women of the future.
During the same intervened Mr. Counsellor First Delegate of `Youth and Training, Which emphasized the words of Big Brother and Announced the appointment of the new president of Youth NHD Manuel Bohorquez Campbell, who has been Replacing Such Developing with dignity and solvency office for the past few years, NHD David Medina Fernandez, who was Recognized and honored by the Brotherhood, for the great work done for Their tireless dedication and constant work. D. Manuel Garcia Garcia Gave him a framed picture of Our Lady of Hope got excited and Shared With Those Who Have been part of the team During these years as president of the Youth Group of the Brotherhood of the Macarena.
Photos NHD Antonio Tirado Muñoz