Hand of Hope. San Juan Bosco in Seville.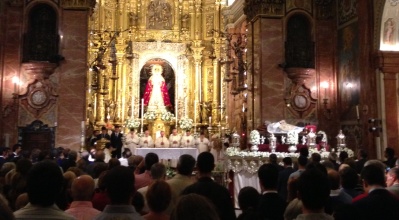 So excited and defined during his homily exciting, D. Antonio Maria Calero of the Rivers, the main virtue of St. John Bosco, the founder of the Salesian order, and whose relic yesterday visited the Basilica of Santa Maria de la Esperanza.
He came to the temple where hope remains its strongest bastion, the saint of youth, and the night started. The procession came wrapped by a crowd, mostly young, who immediately filled the Basilica, where they held a solemn memorial of this event, a milestone in the history of the Brotherhood. In the Solemn Mass offered by the University College of Seville San Juan Bosco with his old College, attended the Youth Ministry and Religious Assistance Service at the University of Seville (Sarus) and City Halls, was chaired by Rev. . P. D. Antonio Maria Calero of the Rivers, SDB, Fellow of Honor Colegio Mayor San Juan Bosco and member of the Pontifical International Marian Academy and Society Mariological Spanish, and concelebrated by the Directors Salesians who have passed through the College with the community Salesian College and other priests. Salesian intervened Choir of the Holy Trinity.
In his homily, D. Antonio Maria Calero of the Rivers recalled with emotion to the surface, the remarkable coincidence in the founding of the order and the connection to the landmark of hope, for such an important event took place on December 18, 1859, the day we celebrate the feast of the Expectation of Mary, which is not mere coincidence, but the premonition of what these mean for the world, especially for young people, the promise of hope that made San Juan Bosco. A remarkable milestone that added to the fact carry the blessed image of the saint, in his heart the relic of the right hand, that limb that both offered that covered so many needs, so many signs of affection, love and devotion expressed in his writings and books.
St. John Bosco, the man of hope for young people, visited the temple where hope is realized, where the Virgin continually offers the best gift of God and knows both the Salesians.
At the end of the act, D. Antonio Maria Calero de los Rios, and the Father Provincial of the Salesians Inspector D. Francisco Ruiz, signed her guest book of the Brotherhood.
The Brotherhood, which was represented by his older brother, Manuel Garcia Garcia, and officers of the Governing Board, was recognized by the Salesian order by promoting this extraordinary encounter with a bust with the effigy of St. John Bosco.
Cover photo Fran Narbona
Photos report Fernando Garcia Arcos