Restored to worship the image of the Blessed Mary of the Immaculate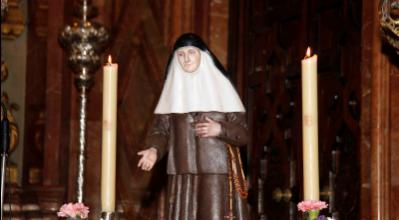 At the end of the solemn Mass of the Macarena brotherhood dedicated to the Blessed Mother Mary of the Immaculate, was instituted to worship at the altar of Christ and of salvation by the Santa Angela de la Cruz, the image of Sister Cross who dedicated his life to serving the poor and needy, which is Christ himself.
The Holy Eucharist was presided by Rev. NH. Mr. D. Borrego Antonio Cobos, rector and pastor of the Basilica of San Gil
The image was created by sculptor Fernando Aguado Seville NHD Hernandez, whom the Brotherhood made the order for the execution of this sacred sculpture, specifying accurately the wishes of the Brotherhood with this most faithful image of the Blessed to put the cult who both given by others, and after recognition of its delivery to the proclamation of his Beatitude, given the close link between the Congregation and the Brotherhood of the Macarena.
Photos  NHD Fernando Garcia Arcos