Bands Concert of the Century Macarena.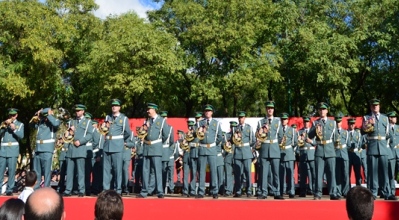 On the morning of Sunday, November 18 concert held in honor of the patron saint of music St. Cecilia. The event took place in the park where Amate, who concentrated much of Sevilla processional bands and among them were the Band of Bugles and Drums of the Centuria Macarena and Youth Band Centuria Macarena. Both spoke to the expectation of the audience that they were into that area, getting the enthusiastic endorsement by classicism and marches as they performed.
At the end of the concert, the organizing committee of separate plates delivered to the directors of both bands macarenas horns, gathering them by the deputy Youth Band, NHD. Francisco Vera, and NHD. Jose Hidalgo.
Photos NHD Juan Jesus Ceballos Lleida