Culture Days culminate Youth Macarena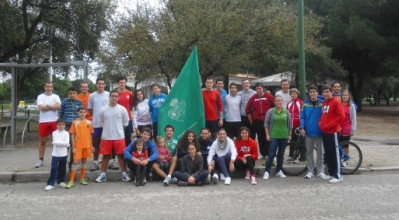 Culture Days culminate Youth Macarena During this past week have been holding the events planned to celebrate Culture Days organized by the Young group of the Brotherhood of the Macarena and that began the day on November 10. Thus, the 12th, the components of Youth turned Macarena site visit Parliament of Andalusia where they could keep track of the origins of the building and how it was transformed to its current use. The next day was held in the auditorium of the sorority house, the brother culture contest, involving youth groups from other sororities. On Thursday 15 November visited the sculptor Juan Manuel Miñarro Seville, where they could see, with explanations of that artist, the evolution in the construction of an image. On Friday the conference was taking place "Joselito el Gallo and the Brotherhood of the Macarena", where the rapporteur Andres Luque Teruel NHD delighted the crowd with an amazing and extraordinary talk, full of anecdotes and demonstrations on the life of the matador who had his devotion at Our Lady of Hope.
On the morning of Saturday, November 17th, took place the traditional indoor soccer championship. In this activity, two teams have participated in our Guild, one formed by the youth, and another by the altar boys, the youngest of the groups. Besides these, have participated Student Sororities, Santa Marta, Queen of All Saints, the Holy Name, Pino Montano and San Benito, the latter being the winners of the competition.
The closing ceremony of the Cultural Days, on Saturday afternoon, began with Mass and sabatina, in which representatives of the various guilds enjoyed the closeness of the Virgin carrying hatchets. Afterwards, we went to the living room of the house to proceed to brotherhood trophy in this order:
– Runners-up paddle tournament (Puerto Jaime and David Medina)
– Paddle Tournament Champions (John Grinder and Alvaro Alfonso)
– Champions Contest brother culture (Hdad. of La Candelaria)
– I Mile Champion Macarena by Hope (NHD Angel Godoy)
– Runners football championship (Hdad. of St. Martha)
– Champions Futsal Championship (San Benito Hdad.)
These cultural events, have their culmination in coexistence held in the "El Roque", ranching "Soto de la Fuente", in which Eduardo Dávila Miura participate NHD, which safeguarded and led those who dared aa get ahead, to fight, to brave a heifer.
Photos NHD Fernando Garcia Arcos, Alejandro Ramirez Lara NHD, NHD Campbell Manuel Bohorquez