Father Leonardo's Foundation visit the Macarena Castillo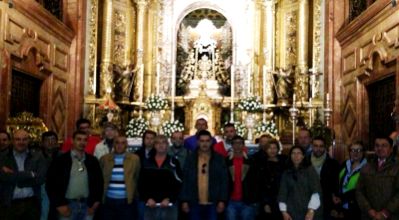 On the morning of November 20, the Foundation turned Father Castle visit the Basilica de la Macarena, where they were received by the Brother of the Brotherhood. After praying to the soles of our Sacred Headlines, moved to the Museum of the Brotherhood which they could look at the contents that it presents.
Costaleros Foundation for Living Christ is a foundation that seeks to make a comprehensive work which treats immigrants and people at risk of exclusion from various fields. This institution believes that it is through social integration, participatory and labor as it gets where citizens can share and live together on equal terms in the society they come as a solution to meet their precarious situation.
The Foundation began its current social work for more than four years, the result of the initiative of a group of people headed by Father Leonardo Castillo.
NHD Fernando Garcia Arcos Photos