A photographers "Esperanza Nuestra ​​2012"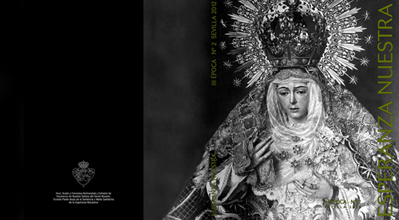 On November 8 was introduced for 2012 the number of our hope, the annual publication dela Brotherhood.
Siblings who have had the opportunity to pick have highlighted both the quality of the texts – whose development we expressly thank the authors, and of the many images that accompany them.
The profusion of quality photographs form part of the objectives of the publication, thus giving it a huge interest in what refers to graphic content. Having an unquestionable value, constitute self-contained and contribute to the visual richness of our hope.
Aware of this magnificent contribution to the final result of the work and the satisfaction that has generated among our brothers, Big Brother, the Governing Board and the editorial board of Hope Our public want to show their appreciation and sincere thanks to Emilio Saenz, Arturo Candau, Álvaro Zayas, Antonio Sanchez Carrasco, Francisco de Borja Cordero, Francisco Narbona, Mariola Agujetas, Daniel Price, Roberto Villarrica, Angel Antonio Tirado, Fernando Garcia Arcos, Carlos Valera, Alejandro López and Martín Cartaya, who must, by its graphics participation as authors, much of the success of the publication