Book Wedding to celebrate in 2014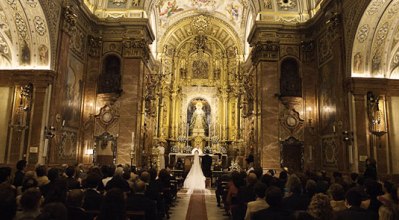 Communicates to all members who wish to marry in the Basilica during 2014, especially the term given to those who belong to the Brotherhood's payroll for the corresponding reservation date and time, will be as follows :
From day 2 to January 13, 2013 (inclusive) through access qualified to do within the area reserved for the brothers in this Web site.
And from 8 to 11 January (inclusive) in the office of chapelry, in times of 10.30 to 13 and from 17.30 to 20.30.
Beginning Monday, January 14 will be attended also requested by spouses requests that do not belong to the corporation, since being able to make the corresponding reservations:
In chapelry in the above schedule
Or in specially authorized access to reserves in the area weddings open to any visitor to our website.
As reported in the last general chapter, the amount of donations set for weddings that are reserved for the calendar year 2013, will not experience any change in respect of the current year 2012.
Also it is reported that there are still some available dates and times to get married in the Basilica during the year 2013, may consult them in that access to this page or in chapelry.