Released the footage on the Bugle and Drum Band of the Century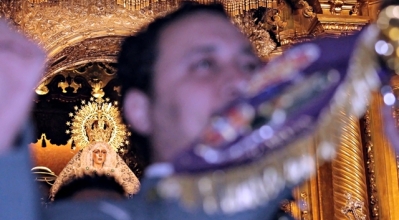 On Friday, February 1, when he finished the Solemn Mass in honor of the Lord of Judgment, the Brotherhood of the Macarena and Cofrades Productions "Ojokenosven" I showed the footage on the Bugle and Drum Band Centuria Romana Macarena recorded during the last year brother.
The event, which was presented by D. Jose Luis Carmona Gallardo (Director of Productions Giralda), projected video summary of the work involved and during the Bugle and Drum Band of Centuria Macarena he played some of his best compositions. The Seville Fair cofrade Sánchez Carretero delighted the audience by reciting two poems dedicated to our Holy Headlines.
The young producer "Ojokenosven" has been commissioned to realize in this work, a whole host of feelings that have gone through the lenses of their cameras over the past year brother and had its culmination in the Holy Thursday evening and early morning past Friday.
The event was attended by the Brother, D. Manuel Garcia Garcia, and much of the Governing Board.