The Philharmonic Society of Batteries in the Basilica of the Macarena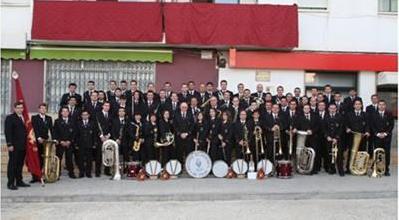 In the afternoon of the next day on February 8, at 17.30 hours, will take place in the Basilica of Santa Maria de la Esperanza Macarena, the procession marches concert will offer batteries Philharmonic Society, part of the Lenten concert program offered by the Brotherhood. This musical group born at the end of 1979, and from the Board earlier this villa Philharmonic, was beginning to gather fans and music students, in order to create a new band, which took over D. Jesus Villarán Diago.
            From the beginning the main focus of this band has been creating and spreading the art of music, which is completely explicit in the professionalization of its components formed within it.
            Slowly, but surely was the formation of this band until 1983 and on the occasion of the celebrations in honor of St. Cecilia (Patron dela Music), began to take its first concert, organized and promoted by our ex – director (D. JOSÉ VICENTE ALVAREZ MICÓ).
 During the celebration of St. Cecilia every year in the month of November, to the new students who join musicians join the workforce, they gather in their homes during the parade we do the day after the concert honoring traditional our patron. Being treated to a meal all musicians. This came as an idea from our ex – director (born in Valencia and Seville adoption) as this is done in Valencia since time immemorial.
Mentioning that the band durantela Feriay Celebrations in honor Virgendel Rocío wing has its own "Private Booth", which has participated in the competition graced by first, second and third prize.
In many events, meetings and festivals in which we have participated the band was always entertained great days retreats (meals) with the other participants.
 He has been part of the cultural work of Monte de Piedad and Savings Bank of Seville, Huelva and Jerez de la Frontera, Luis Cernuda Foundation of the Council of Seville, offering concerts.
 Annually since 1984 inthe spoke Feriadela Culturade Batteries.
 He participated inthe SemanaSantade Huelva, Cadiz and Seville being praised his performances for the press, radio and tv.
 Interventions remain important TELESUR (TVE in Andalusia), and Easter Special (As We) SOUTH CHANNEL TV.
 His first appearance in the popular Easter Seville, was in the loop "SANTACOMO SOUNDS THE WEEK".
 Should be noted as a historic landmark, according to the press of Seville, the fact that this company went from having a stake in1993 to be 5 in 1996, both rooted in fraternities as:
                        HDAD. STRIPPED OF JESUS (Palm Sunday). – (1993-2009)
                        HDAD. JUDAS KISS (Monday). – (1996-2004)
                        HDAD. St. Stephen (Tuesday). – (1996-2008)
                        HDAD. DE STMO. CHRIST BURGOS (Wednesday). – (1985)
                        HDAD. SACRED DELA LAUNCHED (Wednesday). – (1994-2010)
                        HDAD. Monte-ZION (Holy Thursday). – (1995-1999)
The press Seville praised for its excellent interventions, especially the night of Holy Wednesday, after the Palio dela Cofradíadel Cristo de Burgos, with the march "Virgen del Valle".
Note the greeting received from major composers such as D. procession marches MORALES PEDRO MUNOZ, D. MORÓN FULGENCIO RÓDENAS, D. PEDRO VICEDO BENEYTO, and other personalities from the musical and brother.
Having a very good review by record companies, fans, professional musicians and brothers Seville.
Radio stations (Cadena Ser, COPE, Canal Sur, MEDICA ANTENNA, RADIO OLÉ, ETC, and televisions Canal Sur TV GIRALDA, POPULAR TV, TV LOCALIA, SEVILLA TV, Channel 47, have praised the good work, behavior, affinity Porla interpreted processional marches in Piles Filarmónicade Society Holy Week in Seville.
Major performances and awards:
– 1st. prize in the first contest of processional march (RNE in Andalucia) in the interpretation of "bitterly" – 1984.
– Culture Award of Excellency. Batteries City Council in recognition of the success achieved during 1995.
– 1st. I prize in the procession marches Contest – Marbella (Málaga) –
Participation:
– Music Bands Contest IV – Chauchina (Granada) – 1992.
– I, III, V, VI, X Fixture B. Music – dela Frontera Morón.
– IV, VII, VIII "" – Alcala de Guadaira.
– Encounters VII B. Music – Ecija.
– Week dedicated to the Bands – San Fernando (Cádiz).
– XVII Festival bands – Antella (Valencia) – 1997.
– I, II, III, IV events-meetings – Batteries.
– Extraordinary Concert "Transfers and goings dela Virgendel Rocio" and participation in the inauguration of the new dressing room and Rocio Virgendel dela altarpiece (Aldea del Rocío – Almonte).
– Of particular importance is the involvement in the four cycles Easter Concert, organized Porla Hdad.de Seville San Esteban, II AND III CYCLE AND LITURGICAL MUSIC CORAL COFRADE Sevillian Topics Course.
Appointed the following concerts also very important for this entity, participating at the request of the organizers:
– I and II SAMPLE COFRADE National Crafts at the Exhibition and Conference (Sevilla).
– V ANNIVERSARY High Speed Train (AVE) in the Santa Justa (Sevilla) and Cordoba.
– Christmas Concert Hermandadde inthe San Esteban.
– I and II Christmas concert organized by the Ateneo Cultural propylene.
– I Cofrade dela Group Cultural Week ParroquialMariana N ª S ª of the Forsaken.
– V, VII, VIII, IX, X, XI and XII Proclamation of San Martin organized Porla Holy Hdad.dela Launched.
– Proclamation of Costalero organized XVIII Porla Hermandadde San Esteban.
– Concert on the fiftieth anniversary of the founding Hdad.de dela Santa Marta.
– Participation in the radio program "bolt" of the COPE in Seville.
– Regional Contest XVII Wind Band, Bugles and Drums in the city of Córdoba, organized Porla Agrupaciónde dela Week Brotherhoods and Brotherhoods Santade Córdoba.
– Concert tribute to D. Joseph Albero French (former director of the Symphonic Band Music of Seville) – II Harmony Magazine award Cofrade (22/12/2012), in the Chapel of Mariners (Brotherhood of Esperanza de Triana).