Francis I, new Supreme Pontiff of the Church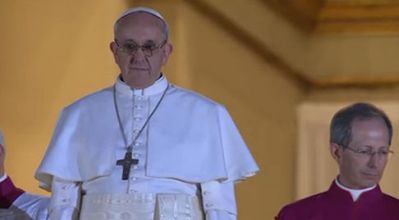 Cardinal Jorge Maria Bergoglio, Archbishop of Buenos Aires, is new Pope has taken the name of Francis I. The Holy See will be occupied by a Hispanic cardinal, the first of this continent and the first Jesuit who occupies the chair of St. Peter
Jorge Bergoglio was born in the city of Buenos Aires on December 17, 1936, the son of an Italian marriage formed by Mario Bergoglio (railroad worker) and Regina (housewife). He graduated from high school Industrial ENET N º 27 (now ETN # 27) Hipólito Yrigoyen, with the title of chemical technician. At age 21 (in 1957) decided to become a priest. He entered the seminary of Villa Devoto neighborhood, as a novice in the Jesuit order.
He was ordained priest on December 13, 1969. From then made a long career within the order of which became "provincial" from 1973 to 1979.
After a very active as a priest and theology professor, was consecrated titular bishop of Auca the May 20, 1992, to act as one of four auxiliary bishops from Buenos Aires.
When the health of his predecessor in the Archdiocese of Buenos Aires, Archbishop Antonio Quarracino began to falter, Bergoglio was appointed coadjutor bishop of the same on June 3, 1997. He took over as Archbishop of Buenos Aires on February 28, 1998
During the session of February 21, 2001, Pope John Paul II elevated him to Cardinal under the title of St. Robert Berlamino. Also became the Primate of Argentina, making it the superior of the Catholic Church in this country.
Part of the CAL (Commission for Latin America), the Congregation for the Clergy, the Pontifical Council for the Family, the Ordinary Council of the General Secretariat of the Synod of Bishops, the Congregation for Institutes of Consecrated Life and Societies of Apostolic Life.
Under his episcopal position, is also a member of the Episcopal Conference of Argentina, which was twice president until 2011 – and CELAM (Latin American Episcopal Council).
After two consecutive terms as president of the Episcopal Conference of Argentina, on November 8, 2011 the voters of that organism bishops appointed to replace the archbishop of Santa Fe, José María Arancedo hitherto second vice president of the Episcopal Conference. April 5
When John Paul II died, were 117 cardinals under age 80 eligible to vote to elect a new pope, among whom was Cardinal Bergoglio, who is said to have managed to get 40 votes of the 77 that were needed to be chosen (ie, the second behind his election and become Benedict XV. Nevertheless, since there is secrecy obligation for those attending the conclave under pain of excommunication reserved to the Supreme Pontiff.
In March 2013, Cardinal Jorge Bergoglio is one of two involving the Argentine cardinals conclave to elect a successor to Pope Benedict XVI.
He was elected Pope on March 13, 2013, after five votes in the conclave after the resignation of Benedict XVII. Under the name "Francis I".
The Holy See is a member of l Congregation for Divine Worship and the Sacraments displina, of the Congregation for the Clergy, the Congregation for Institutes of Consecrated Visa and Societies of Apostolic Life of Pontifical Council for the Family and of the Pontifical Commission for Latin America