Miguel Loreto Demófilo Award 2012 at the ephemeral artwork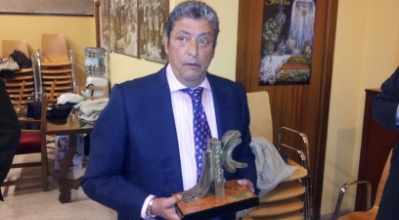 Loreto Miguel Bejarano, who for over thirty years was foreman of the Judgment of Christ, received the award Demófilo 2012, granted the ephemeral artwork by the call made at the exit of the Brotherhood of the Macarena, at dawn Good Friday 2012, the first call to make the passage of the Lord and remember the experiences step forward for thirty-three years, ending with the slogan that identified him during that time. "I want to see fly."
After the reading of the minutes in which identified the reasons for granting the awards, NHD Luis de León Vázquez, foreman of the passage of the Virgen de la Esperanza for twenty years, and he shared unforgettable moments and emotions with NHD Loreto Miguel Bejarano , presented the award to the foreman macareno.
A representation of the Governing Board of the Brotherhood of the Macarena presented himself at the facilities of the General Council of Brotherhoods of Seville, where the ceremony took place, to accompany this meaning he macareno and share these exciting moments.
At the same event was Demófilo Award to permanent artwork to N ª H ª D ª Charo Bernardino, handmade embroidery, for the execution of the scenes of the pallium passage of the Brotherhood of Thirst.