The logo of the Jubilee Year Macareno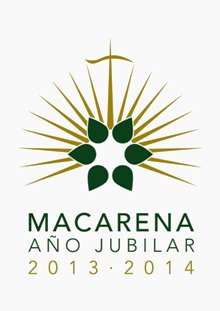 On the occasion of the Jubilee Year 2013-2014 Macareno (from June 1, 2013 to June 1, 2014), the Brotherhood dela Macarena has presented the logo that was created to celebrate this event, the most characteristic symbols based and universal identifying ala Virgen de la Esperanza.
The crown and dela mariquillas Virgen are a logo based agile, modern and evocative, establishing a symbolic dialogue between history dela Brotherhood, its popular roots and neighborhood, vocation of universality and its projection into the future. Both elements are idealized and serve as a hub to the image created to advertise and plot a global event that will attract faith wing Basílica de Santa Maria dela Esperanza to thousands of pilgrims from all over the world.
The logo also intended to evoke the history dela Hermandad and mainly express the evolution of wing devotion Virgendela Esperanza, which has two crucial moments throughout the last century. Thus, in the first quarter of the twentieth century saw the first expansion of devotion, while in the 60s of the same century saw the second following widespread of the Coronación Canónica of the Virgen dela Esperanza (May 1964). They are two milestones that have driven universal devotion Esperanzay Virgendela wing are reflected perfectly in the logo with the presence of one of the mariquillas given him the matador Joselito El Gallo (first quarter of the twentieth century) and the crown that was imposed in May 1964 after being the Coronación Canónicapor His Holiness Pope John XXIII.
The Jubilee Year is intended Macareno is the third stage of the universalization of devotion wing Virgende Hope, a new momentum in the XXI century. Hence the logo not only reflects the two elements above it symbolizes the presence of the eighteen blasts crown shaped glow in the mariquilla converging (in the formal treatment of its petals intuits how tears dela Virgen), the pilgrimage of the faithful haciala Basilica, Virgin withthe meeting point, while irradiation suggests that center of Esperanza devotional to all corners of the world.
If there is another element that identifies the face dela Esperanzaentre the Macarenos, that is none other than its unique brow. This "wink" macareno also been introduced in the logo, as the stipe of the cross that crowns the crown played left brow shape dela Virgen.
As for the colors, use the corporate green and gold, a color option that also refers to the wing Esperanza and is faithful devotion to aesthetics dela Hermandad alone centuries.
The logo will serve as a basis to represent the two main events to be held in the Jubilee Year Macareno: Mariano and Mariological Congress and the 50th Anniversary Coronación Canónica of the Virgen  de la Esperanza.
The logo is the work of advertising CONZETA communications agency.