The mantle tissue, faithful to the original placement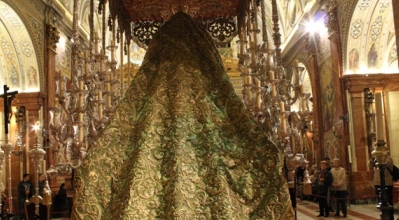 As you can see in these days leading up to Easter and faithful brothers who visit the Basilica, the mantle of green tissue of the Blessed. Ntra. Sra. de la Esperanza, by the workshop of Juan Manuel Rodríguez Ojeda in 1930, is provided in step with the highest fidelity to the Juan Manuel devised placement year of its release.
The rigorous restoration that has undergone this jewel embroidery, which has enabled recover the original design drawn by Rodriguez Ojeda, to appreciate very clearly vertical and oblique axes which, starting from the upper mantle and linked with horizontal axes, drawing articulated around which are arranged the decorative motifs and the construction shape.
For placement in step, has also pursued a high fidelity to the early years of the mantle, with a triangular arrangement in which the folds reinforce both the central axis, vertical, and lateral oblique, thus enhancing the geometric lines that guide design.
To achieve this effect, the Brotherhood has made a new poyero, designed by Fernando Morillo-Velarde NHD and executed by Sucesores de Diego Sanchez Zabala, based telescopic carbon steel inserts, which allows adaptation to the three output cloaks who owns the Blessed. Virgin and the needs arising from the design and size of them.