The Virgin de la Esperanza is already in your step.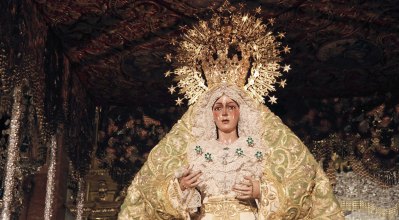 Our Lady of Hope has dawned Tuesday enthroned in his pallium passage. When the doors opened macareno temple at nine dela morning, a large group of devotees was entering the sacred precinct to watch the whole pallium passage with the mantle of Green Tissue. During this week of the Passion will be completed step adorns the station for the next Early Penance.
Our Lady of Hope will wear the mantle of green tissue that Juan Manuel Rodriguez Ojeda made in 1930 and has been restored by Fernandez and Enríquez workshops for over four years, a laborious and complex process in which the dream has recovered the excellent designer, developer aesthetic change our Easter, in the late nineteenth and early twentieth centuries. The work has enabled the recovery of the original drawings and design from a comprehensive study of old photographs and, by the Cordovan artist Rafael de Rueda.
The mantle has been exposed in Cajasol Foundation headquarters, shows that just concluded on Monday night and has been visited by almost 20,000 people visited.
Photos NHD Fernando Garcia Arcos