Veterans visit the steps of the brotherhood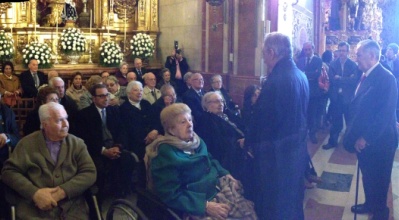 A group of fifty-one brothers belonging to Veterans Project Viewed Macarenos steps of the brotherhood accompanied by volunteers from the Brotherhood. Veterans, including some of the brothers with the lowest numbers of payroll dela Brotherhood, have been able to admire the Señor dela Sentencia and the Virgen de la Esperanza Macarena in its magnificent steps for a while.
  The event started a little before noon. Big Brother has hosted veterans and dedicated them a welcome. Then the Rector dela Basilica led the Angelus prayer and a Hail to Our Lady of Hope, after which the veterans were able to enjoy a few moments of contemplation and emotion against the Sacred Brotherhood Holders.
After the ceremony, the brothers veterans have returned to their homes accompanied by Project volunteers. With today, Veterans Project has completed its actions during Lent of 2013 serving more than a hundred of these older brothers.
Photos NHD Fernando García Arcos, NHD Antonio Tirado y NHD Fran Narbona Soto