Opening Treasure of La Macarena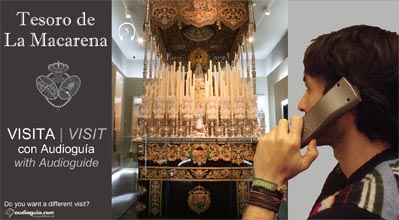 On Saturday, April 6, will be reopened to the brothers, devotees and visitors the Treasury of the Brotherhood of the Macarena.
Since being inaugurated the facilities where our Brotherhood displays some of his treasure, a commitment to modernization, excellence and a new concept for the sample of the vast wealth of the Corporation, have been adding new services to complete, provide and inform visitors about the importance and relevance of the processional and cult objects shown in the Treasury.
With the audio guide service, the Brotherhood offered in five languages who turn their museum visit, a new and more accurate vision, as the user is informed and entertained by how much will contemplating. By providing the visitor with a more accurate perspective exhausted and, in concept and history, on articles that are displayed on the suggested route.
From here we encourage all brothers and visitors, even if they have not, they can increase their knowledge, and observe the sample differently, renting for the modest price of 1 € the information terminal, a further reason to collaborate with economic sustainability of our Brotherhood