Macareno Jubilee Year begins.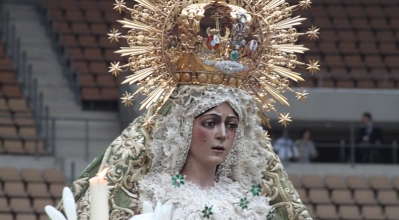 The Brotherhood of the Macarena, live one historic day next June 1, with the blessing of the Jubilee Door in the Basilica of Santa Maria de la Esperanza Macarena. The event will be chaired by the Hon. and Rt. Mr. D. Juan José Asenjo Pelegrina, Archbishop of the Archdiocese of Seville and will begin at nine o'clock with a procession, with the participation of leading authorities invited the Governing Board and the Bishop, from the parish of St. Giles to the Basilica of the Macarena. Once the procession reaches to the atrium of the Basilica will be held the opening ceremony of the Jubilee Year Macareno. Finished this act, the Archbishop shall open the door of the Basilica, with subsequent entrance procession to the Basilica and the start of the Opening Mass Macareno Jubilee Year.
The Brotherhood invited to attend all his brothers, devoted and faithful in this Jubilee which will allow the light that radiates from the Basilica de la Macarena reach even further and become entrenched as a beacon of true faith, that is applicable to those who direct their under his wing and get to the end of the road clinging to the anchor of his hope to strengthen their testimonies as good Christians.