Senior government officials in Peru and Portugal visiting the Basilica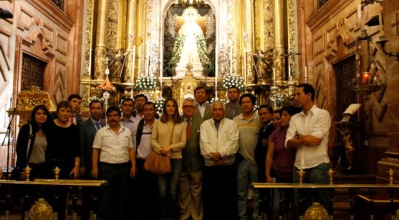 In the afternoon of 24 greater trade and political delegations of Peru and Portugal turned visit to the Basilica of Santa Maria de la Esperanza Macarena.
This visit was recommended and promoted by the Chamber of Commerce of Seville that maintains the pretense of joining and collaborating with Macareno Jubilee Year, which begins on June 1, including in the program of activities formalized with the delegations and commercial and institutional representations visiting our city to the temple macareno.
Were completed by Big Brother, D. Manuel García García, and the Fiscal First, D. Cabezuelo Fernando Fernández, who after praying before the Blessed Virgin guided visit to the museum of the Brotherhood.
Pictures. N ª H ª D ª Sandra Arenas and Fernando Garcia Arcos NHD