The Hermandad de la Macarena amadrina the blessing of the Virgin of Charity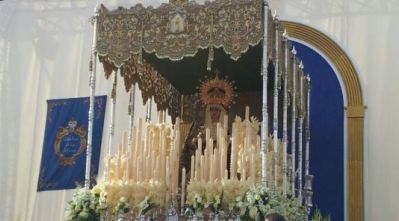 In the afternoon of May 11 took place the act of blessing the new Dolorosa, the Virgin of Charity, to the Brotherhood of the Sovereign Power, and was coupled by the Brotherhood of the Macarena.
The extraordinary events began at half past six p.m., when the Virgin of Charity came from the parish of San Mateo under a canopy, for the Solemn Mass of Blessing of the image that started at seven pm at the Plaza May 1st, and was presided over by Rev. Fr. Father José Carrasco Bell, spiritual leader of the Brotherhood.
At its conclusion the extraordinary procession began the Virgin of Charity through the streets of his village, where the representation of the Brotherhood of the Macarena participated with his banner and four yards, and the presence of his Brother, who signed the minutes of blessing. The Virgin procesionó under the canopy which was ceded by the Brotherhood of Borriquita, which is based on the same population, and the mantle of Our Lady of Hope Macarena, held in 1964, on the occasion of her Canonical Coronation and that it has given to this extraordinary event, wanted to express their support for this new brotherhood, in the beginning of his career as a brotherhood and evangelizing mission rightful within the diocesan Church.
The musical accompaniment was in charge of the Musical Association Our Lady of the Eagle of Alcala de Guadaira, musically directed by Sergio Jimenez Martin. The band premiered the fly "Virgin of Charity", by Jose Manuel Iglesias and Jesus Navarro Muñoz, to commemorate this anniversary.
La Virgen de la Caridad, Seville by sculptor Juan Manuel Miñarro.