The Hermandad of the Macarena in the Corpus Christi.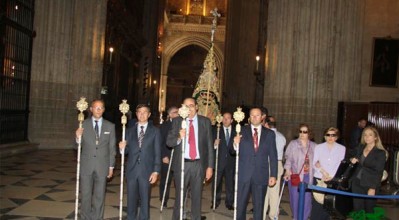 The Brotherhood of the Macarena, as contemplated and force its Rules, the body was part of the procession, on the morning of Thursday, May 30, of Corpus Christi, to honor the Blessed Sacrament in its passing through the streets of the city.
The Brotherhood attended corporate level, with banner and rods, being chaired by the Deputy Brother, D. Álvaro García García-Carranza and the Officers of the Governing Board. A group of Brothers nutridísimo accompanied the Blessed Sacrament in the procession of Corpus Christi.
Photos NHD Fernando Garcia Arcos