Tribute to Carmen band of Salteras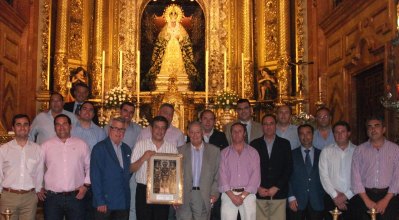 Last night of Wednesday May 8th, the Board of Governors, on behalf of the Brotherhood of the Macarena, gave an endearing tribute to the Philharmonic Society of Our Lady of Carmen de Salteras.
La Banda del Carmen de Salteras added this year, to its traditional professionalism, quality music and love for the Brotherhood, a demonstration of effort and commitment, especially in the return of the brotherhood, which shows once again its commitment to Macarena and the Virgin de la Esperanza.
During the ceremony he was presented by the President of a painting of Ntra. Sra. de la Esperanza.