Arrival of our children Belorussian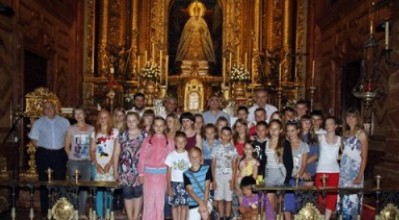 On the afternoon of June 27 arrived in Spain the group Belarusian children who are taken in by families of Brothers, in medical sanitation plan, which the Brotherhood spews past twelve years.
In Madrid airport were waiting Deputy Chief Government, NHD. José María del Castillo Jimenez and Miguel Exposito and NHD NHD José David Medina Fernandez, who accompany them until their arrival at the Basilica of the Macarena, well into the early hours of Friday June 28, and where the Blessed Virgin instructed the hope, next to the groups that came with the Brotherhood of the Supper and Soledad de San Buenaventura.
Despite what intespectivo of the time, the large group of families waiting, with eager and excitement for the reunion, the come of these young people who are already part of their lives, integrated into the family unit during the forty days that remain under the guidance and protection of the Brotherhood.
The host program is being developed, among children in Belarus, since the core explosion occurred in the reactor of the Chernobyl nuclear power plant, and the toxic cloud swept through Belarusian territory, with dire consequences for the health of their inhabitants. According to the World Health Organization this period that children stay away from harmful environment provides them with greater life expectancy and they cleanses the body of toxic air cloistered in that country.
The photographs are of NHD Madrid Miguel Exposito and inside the Basilica of NHD Fernando Garcia Arcos