Emeritus Cardinal preaches function Coronation Anniversary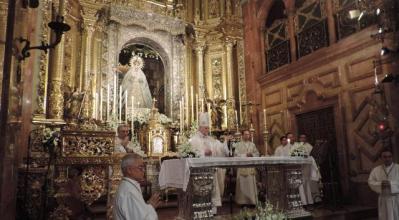 On 31 higher, at twenty and thirty hours Emmo. and Rt. NH Mr. Carlos Amigo Vallejo, Cardinal Emeritus of Sevilla, presided over the solemn function XLIX commemorative anniversary of the Canonical Coronation of Our Lady of Hope Macarena.
The temple was packed an hour before the start of this solemn anniversary, to partake of the Holy Eucharist, which reminds one of the most important moments in the history of the Brotherhood. The Canonical Coronation of the Blessed Virgin.
In his homily, Fr Carlos Amigo Vallejo, alluded to the importance of maintaining the milestone of Hope anchored in our soul, as the bond of closeness to God, according to our works, and as a respite to the personal status of each.
Participated in the solemn function representations of the Brotherhoods of the Great Power, Students, Santa Genoveva, Rosario San Pablo, Pino Montano, dew Macarena, Our Lady of Mount Carmel and San Gil and Sacramental Brotherhood of Our Lady of the Esperanza Macarena de Jerez de los Caballeros.
Intervened Polyphonic Choir of the Brotherhood
Photos NHD Francisco Narbona Soto and NHD Fernando Garcia Arcos