His Majesty the King accepts the Honorary Chair of the Jubilee Year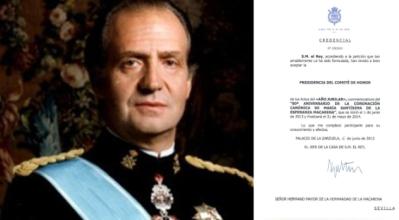 In a letter received by the Secretariat of the Brotherhood, His Majesty King Juan Carlos I, has accepted the chairmanship of the Committee of Honor to be configured on the occasion of the Jubilee Year Macareno. The Brotherhood is honored with this acceptance and thank S. M. King consideration, affection and love that always shows by this Corporation.
Linking the Brotherhood with the Royal House dates back to the late nineteenth century and now D. Juan Carlos I has the title of Honorary Brother.