Macareno Jubilee Year Begins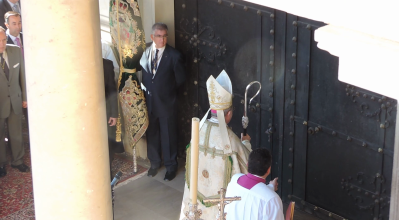 "We marched peacefully in the Lord's name." With these words of Luis Rueda, MC canon of the Cathedral, was beginning the procession from the parish of St. Giles to the Basilica de la Macarena. The many authorities present, among whom were the mayor, Juan Ignacio Zoido, the Deputy Commanding General of the Land Forces, José Ignacio Medina Cebrian, the Government Sub, Felisa Baker, the CEO of major festivals, Gregorio Serrano, the delegate the Old Town, Amidea Navarro, the Socialist party spokesman in the city, Juan Espadas, or the secretary of the Council of Guilds, Carlos Lopez Bravo, have been part of the entourage. Once they reached the court has been reading the gospel and to decree that the Holy See granted the Jubilee Year by the Brotherhood met the fiftieth anniversary of the canonical coronation of Our Lady of Hope. With a few strokes of Archbishop Asenjo staff opened the doors of the temple symbolically. Ringing the bells of the basilica. Jubilee macareno officially began.
In his homily, Bishop Asenjo has broached the faithful who packed the basilica Gaze back to the Virgin in this jubilee year in which the Church also celebrates the Year of Faith: "Our encounter with Christ must be the ultimate goal" . Seville Archbishop encouraged the faithful to serve the jubilee year for everyone to deepen their faith, a faith that leads to "hope and joy".
At 11:10 ended with the singing of the Salve Regina very solemn ceremony, concelebrated by many priests, who had started at 9:30 with a procession from the parish. The archbishop and the authorities have visited the chapel of the Virgin, which is open most days during the year of joy for the brotherhood.