The South African Ambassador to Spain visit the Basilica de la Macarena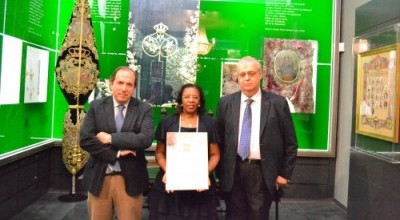 On the afternoon of June 26 Brotherhood of the Macarena had the honor of hosting the South African Ambassador to Spain, HE. Ms. D ª. Fikile S. Magubaneque. Was accompanied by members of the board of the Chamber of Commerce, with which our Corporation has just signed an agreement of mutual cooperation, completing the delegation with Ms. Alicia Segura and D. Miguel A. Orjales. Were completed by Mr. Counsellor First D. Eladio de León Carrillo and Mr. Chaplain Second, D. James D. Alvarez Ortega.
After visiting the museum facilities, went to the chapel of Our Lady of Hope, where there were moments of intense emotion and prayed to Her, dedicate their prayers, the speedy recovery of former South Africa's first black president Nelson Mandela.
He ended the visit with the signature in the book of the Brotherhood of Our Lady Ambassador of South Africa.
Photos NHD  Miguel Exposito and NHD Alejandro Canton